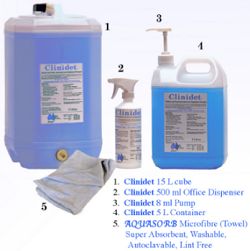 Product Description
A clinical detergent specially formulated to meet the requirements of AS/NZS 4187-2003 & ASINZS 4815-2001
Environmentally Friendly, User Friendly, Worksafe Friendly
DetergentsClinidet Features
Excellent wetting (detergency) across a broad temperature range
Very low foaming under dynamic conditions even at ambient temperature
Corrosion inhibitor incorporated into the fonnulation
Mild alkaline formulation
Improved performance in hard water
No irritating or hazardous ingredients
Excellent in systems operating under dynamic conditions where continuous, rapid surface-interface formation requires quick migration of surfactant to effect good wetting
Clinidet Advantages:
Highly efficient cleaner for the removal of organic substances especially blood, proteins, fats & lipids
Powerful as a cleaner yet gentle to high quality instruments & equipment
Mild alkaline formulation greatly improves the solubilisation of proteins & fats compared with neutral detergents
Overcomes hard water problems in rural areas
Safe and effective with "mist" free applicator
Safe to store & transport
The Optimum Detergent for Manual & Ultrasonic Cleaning
Cleaning before Sterilising:
Cleaning is a vital step for preventing cross infection when reusing surgical instruments & equipment.
The sterilising process will not work if there is residual soil or film. The outer coating of the bio-film will simply harden & the underlying organic material will be untouched, leaving a potential source of cross infection.
A cleaning agent is necessary to effectively remove soil & organic matter. The cleaning agent will soltibilise & emulsify soil through the action of surfactants. The effectiveness of the cleaning agent is greatly enhanced by mechanical action, such as manual brushing, ultrasonic cleaners or mechanical washers.
Ideal for use on:
Surgical Instruments, Dental Instruments, Surgical Tables & Chairs, Benchtops, Tiles, Walls & Floors, Environment